Beijing's Off the Beaten Path Destinations: Five Hidden Gems for Tourists and Locals
January 25, 2022
Beijing has many fantastic sights to enjoy, but if you are looking for some cool, non-touristy things to do in Beijing, then we have a few of Beijing's "hidden gems" that you should check out.
Whether you are a tourist or a local, here's a look at five off the beaten path places to visit in Beijing that you might find interesting and enjoyable.
1. 潭柘寺 (Tanzhe Temple)
Photo by Mehmet Dogan
There is a Chinese saying: "first comes Tanzhe Temple, then Beijing city (先有潭柘寺,后有北京城)".
For this reason, Tanzhe temple is a great place to start your Beijing journey. The oldest temple in the city, Tanzhe is located in Beijing's off-the-beaten-path Mentougou District. Built during the Jin Dynasty, this Buddhist temple has been around for roughly 1,700 years. That's approximately 900 years longer than the city of Beijing itself.
The entrance to the temple is typically full of vendors and shops set up by locals, but what awaits through the entrance is much more serene.
Photo by Mehmet Dogan
The temple grounds consist of many ginko trees and incredible pavilions that can be enjoyed in what seems like a very logical path. One of the many halls, Mahavira Hall, was the inspiration for the Hall of Supreme Harmony in the Forbidden City.
Eventually, you will get to the Stone Fish Hall. Once there, face away from the hall to see the impressive view of the entire temple grounds and magnificent mountains surrounding it. There is even a quiet river flowing at the very far end of the temple which is perfect for a quick break before heading back to the exit.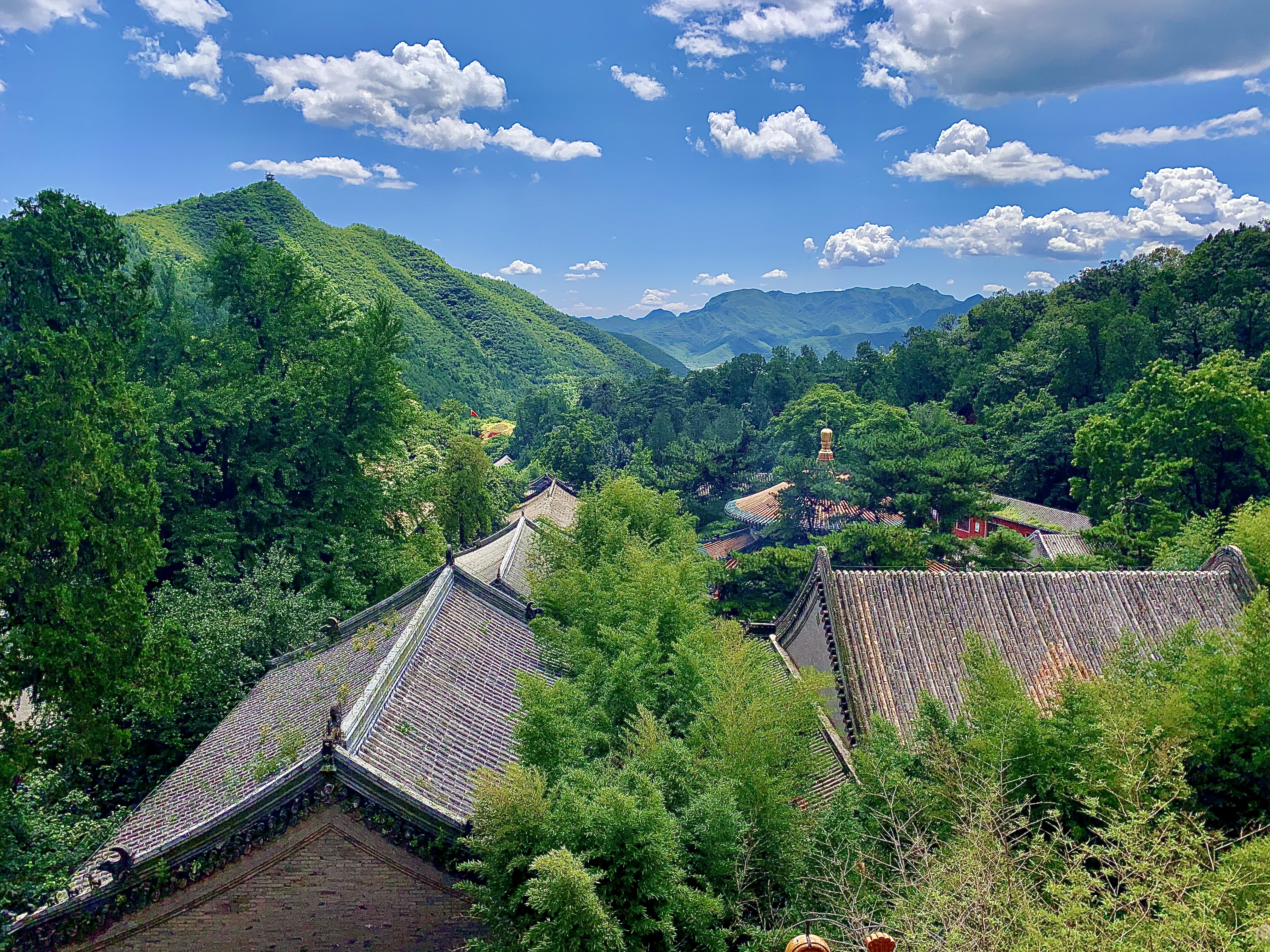 Photo by Mehmet Dogan
Definitely a hidden gem of Beijing!
Opening time:
Apr. - Oct.: 8:00--17:00
Nov. - Mar.: 8:00–16:30

How to get there: Take subway line One and get off at Pingguoyuan Station. Then take bus 931 to Tanzhe Temple (takes about an hour).

Entrance Fee: RMB 55 per Person
2. 北京古观象台 (Ancient Observatory)
Photo by Eden
Beijing's Ancient Observatory is a pre-telescopic observatory built in 1442 during the Ming Dynasty. At a very cheap entry price (RMB 20) you can walk through lush gardens and courtyards and look at the country's ancient astronomical achievements. Even those unenthused about the history will find the quiet walks under wizened trees a welcome break from Beijing's pulsing streets.
The main attraction the Platform of Star Watching on the top of the tower. Intricate instruments have quite literally weathered the centuries resting beneath the stars. Through the aging protective bars, you can peek through to see the sprawling city that has sprung up around the site. Modernity is never far away in Beijing, but for a moment, you can imagine yourself on a quiet night in a much more analog time, studying the stars.
Photo by Eden
It only takes an hour or two to see the whole site, but Beijing's Ancient Observatory is well worth the trip.
Opening time:
09:00--17:00 (Closed on Mondays)

How to get there: Take the subway to Jianguomen Station (lines 1&2), and go to exit C. It is a 200m walk from there.

Entrance Fee: RMB 20 per Person
3. 北京东岳庙 (Dongyue Temple)
Photo by Eden
Often overlooked by Beijing tourists, Dongyue temple (or Temple of the Eastern Peak) is a Taoist temple located near Chaoyangmen station. (Taoism, also written "Daoism", is an ancient Chinese philosophy dating back to the late 4th century BCE.)
Fun Fact: Taoist temples are called 庙 miào , while Buddhist temples are called 寺 sì.
There are three main halls and over 350 different rooms, which all consist of eerie statues and carvings that have eroded over time.
What makes this temple very interesting are the names given to each room (called departments), such as the "Departments of Controlling Evil Spirits", "Department of Betrayal", "Department of Suppressing Schemes Better", and "Department of Forest Ghosts and Spirits" to name a few.
These departments are meant to mirror the "departments" of the afterlife, depending on what you did in life and how you died. Each department/room contains statues of strange-looking creatures and demons, the spiritual versions of which the dead can look forward to spending the rest of eternity with.
Photo by Eden
Opening time:
08:30--16:00 (Closed on Mondays)

How to get there: Go to Chaoyangmen Subway station (lines 2&6) and go out of exit A. Then, walk straight (eastward) 700m. There are also many buses that stop right outside the temple at the Shenlu Street stop (神路街).

Entrance Fee: RMB 10 per Person

4. 黄花城 (Huanghua Cheng)
Photo by Mehmet Dogan
The Great Wall is a must-see and clearly everyone got the memo. Most visitors to China's capital make the mistake of going to Badaling which is the most overcrowded section, or its slightly less-crowded brother, Mutianyu. Both locations will remind you more of a sardine can rather than a "Wonder of the World."
So, why not go to the Huanghuacheng section, tucked up in the Huairou District of Beijing?
Yes, it is slightly more troublesome to get to, but it is well worth it.
The greatest aspect of the Huanghuacheng section is that, simply by spinning around in a circle, you will witness both the old, crumbling remains of a timeless structure, and the renovated modern duplicate. You will experience a level of serenity that just isn't possible at the two aforementioned areas.
Photo by Mehmet Dogan
Still not convinced?
There's also a nice lake, with a handful of restaurants to rest at, while you stare at this section of the Great Wall in amazement.
Note: As of 2021, you are not technically allowed to walk along the top of the Huanghuacheng section of the wall. There are back roads which you might find unguarded, but you didn't hear it from us. If you enjoy a serene walk through orchards where you won't get chased away, there are paths along the bottom of the wall which make for a very nice stroll.
Opening time:
09:00-16:00

How to get there: Take bus No. 916 from the Dongzhimen transport hub and get off at Nanhuayuan Sanqu. Walk around 300m further to Nanhuayuan Siqu bus station. Then, take bus H21 to Xishuiyu. Huanghuacheng Lakeview Great Wall is around 600m away from the bus stop.

Alternatively, you can hire a car, or join a tour group.

Entrance Fee: RMB 55-60 per Person
5. 爨底下(Cuandixia Village)
Photo by Eden
Cuandixia is tucked in the mountains that curl around the western part of the main city. Established in the 14th century during the Ming Dynasty, folks in Cuandixia thrived by trading coal, fur and grain.
Fun Fact: Most of the villagers living in Cuandixia all share the surname 爨 Cuàn.
Today, many of the stone homes survive. For Chinese and foreign visitors in the know, it has become a cool, non-touristy, off-the-beaten-path destination in Beijing's outskirts. From Beijing proper, the journey there is a bit of a struggle – the subway, to a bus, to a hired car, to a bit of a walk into town – but well worth it.
Photo by Alexandra Sieh
Once there, you will get to wander through ancient streets, enjoy nearby villages, and even stay with locals if that's what would complete the experience for you.
Photo by Alexandra Sieh
Opening time:
24 hours

How to get there: Take Subway Line 1 to Pingguoyuan Station. Then take bus 892 to Zhaitang Station. Here, you will need to take a taxi or carpool with others to reach the entrance of the village. The taxi fare is around CNY 20 - 30.

Getting Back to Beijing: From Cuandixia Village, there are buses to Zhaitang Station, leaving at 06:50, 09:40 and 15:35. At Zhai-tang, take bus 892 back to Pingguoyuan Subway Station.

Entrance Fee: RMB 35 per Person
So, there you have it! These five of hidden gems of Beijing may not have been on your radar at first, but now you definitely need to add these off-the-beaten-path destinations to your Beijing bucket list.
Post contributed by Mehmet Dogan
---